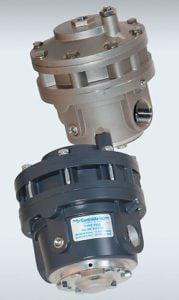 ControlAir Inc., a leading manufacturer of precision pneumatic and electro-pneumatic control products, today announced the introduction of the new Type-6500/6600 Large Flow Capacity Volume Boosters. The Type-6500 Aluminum and Type-6600 Stainless Steel Volume Boosters are designed to significantly increase the stroking speed in valve actuation system applications that require high flow capacity.
Features:
Aluminum or 316 stainless steel construction.
Integral adjustable bypass valve eliminates "hunting" by allowing the booster to directly respond to small incremental signal changes without opening the primary valve.
High flow capacity allows up to 400 scfm (11,320 Nl/min) for rapid actuator stroking.
Soft valve seat design provides tight shutoff and eliminates leakage in steady state operation.
High temperature operation up to 200ºF (93ºC).
Tapped high output exhaust port relieves 100 scfm (2,830 Nl/min) at 5 psig above setpoint.
2 gauge ports – optional output feedback port.
The Type-6500 and Type-6600 Large Flow Volume Boosters are ideal for any application that requires high flow capacity or remote pressure control. Typically they are used to increase throttling speed of large volume control valve actuators. Other OEM applications include printing presses, textile machinery, tire machinery, paper machinery, paint spray systems, pneumatic pump control, and clutch and brake control.
The Large Flow Boosters handle up to 250 psig (17.0 BAR) supply pressure and deliver an output pressure up to 150 psig (10.0 BAR). The units provide a flow capacity of up to 400 SCFM (11,320 Nl/min). A wide temperature range of -40º to 200ºF (-40º to 93ºC). Exhaust capacity is 100 scfm (2,830 Nl/min) with downstream 5 psig (0.4 BAR) above setpoint. Supply pressure effect is 0.3 psig (.02 BAR) for a 100 psig (7 BAR) change. The Type-6500 Aluminum Volume Booster weighs 6.5 lbs (2.95 kg) and the Type-6600 Stainless Steel Volume Booster weighs 15 lbs. (6.8 kg).