ControlAir Achieves Safety Integrity Level (SIL 3) Certification for its Type 6100 and Type 6200 Volume Boosters
October 2020 —ControlAir LLC, a leading manufacturer of precision pneumatic and electro-pneumatic controls, is pleased to announce that its Type 6100 Aluminum and Type 6200 Stainless Steel Large Flow Capacity Volume Boosters were awarded a Certificate of Compliance to IEC 61508 for a SIL 3 safety rating.  This is in addition to the larger Type 6500 Aluminum and Type 6600 Stainless Steel Volume Booster family.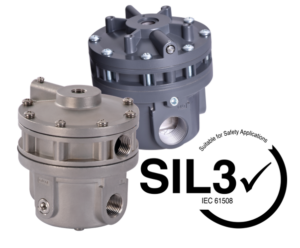 SIL is an industry measure of safety system performance and reliability and is used as part of the Functional Safety Standard IEC 61508 to calculate risk protection in a system.  When a company is using the IEC 61508 standard for safety, SIL components are required in system design.
The IEC 61508 standard defines the requirements to ensure products have a high level of resistance to random hardware and systematic design failures. ControlAir's Type 6100/6200 Large Flow Capacity Volume Boosters were evaluated by a qualified third party certification agency, Factory Mutual (FM), which assessed and certified that the Type 6100/6200 Volume Boosters had been designed and developed in accordance with the IEC 61508 standard.  FM followed a rigorous process that verified the Safety Integrity Level (SIL) for the Type 6100/6200 series hardware design, as well as its manufacturing and quality control procedures.
The Type 6100/6200 and Type 6500/6600 Large Flow Capacity Volume Boosters are ideal for any application that requires high flow capacity or remote pressure control.  Typically, they are used to increase throttling speed of large volume control valve actuators. When used in a safety system, the volume boosters are used in conjunction with a valve actuator, to perform a safety-related function. The greater air flow provided by these Large flow capacity units allows a valve to actuate more rapidly, which would then allow a safety shut-off system to reach a safe state quicker.
The Large Flow Boosters handle up to 250 psig (17.0 BAR) supply pressure and deliver an output pressure up to 150 psig (10.0 BAR). The Type 6100/6200 units provide a flow capacity of up to 225 SCFM (6,300 Nl/min). The Type 6500/6600 units will provide up to 400 scfm (11,300 Nl/min). Both units are rated to a wide operating temperature range of -40º to 200ºF (-40º to 93ºC) with low temperature options available.  The Type 6500/6600 are available in 3/4″ and 1" NPT porting.  The Type 6100/6200 are available in 1/4",1/2" and 3/4" NPT porting.