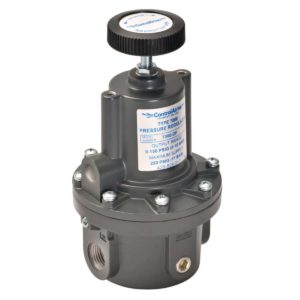 February 2019 – ControlAir Inc. announced today the introduction of the new high flow capacity Type 7000 Precision Air Pressure Regulator. The Type 7000 is designed to provide the highest level of regulation accuracy and repeatability during variable high flow conditions. The large port size options and rugged construction make it suitable to be used in a wide range of pneumatic control systems.
The Type 7000 utilizes an isolated control chamber to minimize output variation and vibration/honking during flow conditions. An integral aspirator tube helps maintain downstream pressure by compensating for pressure droop during flow conditions. The balanced supply valve virtually eliminates changes to supply pressure variation.
The Type 7000 is ideal for any process requiring high flow capacity and precise regulation of air pressure. It is suitable for a wide range of applications which include air gauging, gas analyzers, diagnostic equipment, tool balancers, articulating arms, medical ventilating, calibration equipment, pneumatic counter balancers, and web tensioning.
Features:
Control sensitivity to 1/2″ water column pressure
1/4", 1/2″, or 3/4″ NPT porting
1/4″ NPT gauge ports
Stable Output – Isolated control chamber prevents output variation under varying conditions of flow, supply pressure, and temperature.
High Flow Forward – allows flows up to 250 scfm.
High Exhaust Capacity – allows relief flow up to 30 scfm
Sensitive – senses output pressure deviations to within 1/2" water column pressure.
The Type 7000 Precision Air Pressure Regulator is available in 1/4″, 1/2″ or 3/4″ NPT porting. Output ranges include 0-2 psig (0-0.15 bar), 0-10 psig (0-0.69 bar), 0-30 psig (0-2 bar), 0-60 psig (0-4 bar), 0-100 psig (0-6.89 bar), 0-150 psig (0-10 bar) and 0-200 psig (0-13.8 bar). Maximum supply pressure is 250 psig (17.5 bar). A wide temperature range of -40º to 200º F (-40º to 93º C). Flow capacity up to 250 scfm (7,075 Nl/min) depending on port size and supply pressure. Exhaust capacity is 30 scfm (849 Nl/min) with downstream 5 psig (0.35 bar) above 20 psig (1.38 bar) set point. Effect of Supply Variation is less than 0.3 psig (0.007 bar) for 100 psig (6.7 bar) change. The weighs 2.5 lbs. (1.13 kg). Standard options include tamper-proof cover, tapped exhaust, non-relieving, and ATEX approvals.