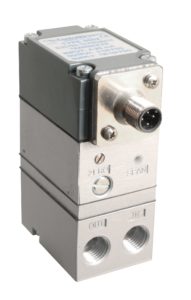 ControlAir, Inc., a leading manufacturer of precision pneumatic and electro-pneumatic controls, is pleased to announce that its Type-550X and Type-900X I/P, E/P Transducers now offer M12 locking connectors for factory automation, process control, and industrial instrumentation applications.
ControlAir adopted the M12 standard (IEC61076-2-101) connector for its Transducers to ensure proper connection to industrial components and to protect the interconnection from foreign particulates, dust, water, and hazardous substances. The M12 was also chosen for its ease of use and reliability.
The addition of the M12 thread style connection provides added flexibility to the Type-550X and Type-900X I/P, E/P Transducers. Other electrical connections offered include conduit, terminal block and DIN. The units' modular design permits space saving and dense mounting, and installation versatility. Standard NEMA-4X housing is approved for intrinsically safe applications. Input and output ports on both front and back of the unit allow for versatile plumbing. High flow capacity delivers quick actuation of dampers, louvers, valves and cylinders. Other features include field reversible, RFI/EMI protection, external zero and span adjustments, and removable external orifice.
The Type-550X and Type-900X provide precise air pressure regulation to actuators, valves, positioners, cylinders, clutches, brakes and other final control elements. Industries that utilize the Type-550X and Type-900X include Petrochemical, HVAC, Energy Management, Textile, Pulp and Paper, Paper Converting, Robotics, Machine Control, Medical, Semiconductor and Food and Drug.