ControlAir offers three different main types of air pressure regulators in various shapes, sizes, materials, and pressure ranges. The three categories boil down to precision regulators, filter regulators, and general purpose regulators. In this post, we will be walking through some of the characteristics and advantages of each category.
Precision Regulators:
When ControlAir first got started, we built our business around manufacturing precision air pressure regulators. The Type 100, one of our first models and approved for use in oxygen ventilators in 1989, is still widely used today. The thing that sets precision regulators apart from general use regulators is mainly their accuracy and sensitivity.  You can think of sensitivity as a regulator's ability to react to changes in air pressure relative to the unit's set point. The Type 100, for example, has a sensitivity of 1/8" water column.  That means that if the output pressure differs from the set pressure by about 0.0045 PSI, the unit will make a correction to bring output pressure back to the setpoint. We are able to achieve this high level of sensitivity by keeping the diaphragm of the unit in a reactive state. We do this by constantly bleeding a small amount of air, which never lets the diaphragm settle.  The same principle is used in the Type 700; however, we are able to achieve the constant bleed without the use of a bleed screw. All of our precision air pressure regulators have a sensitivity of less than 1" water column or about 0.036 PSI. Some of the more common applications of these units include medical OEMs, web tensioning, ventilators, calibration standards, and microfluidics.
Filter Regulators:
We consider air pressure filter regulators to be a vital air preparation device when it comes to protecting your sensitive downstream equipment. The purpose of a filter regulator is to clean the air line of moisture and particulates all while reducing air pressure to a setpoint. This is essential when it comes to protecting expensive lab equipment, valve positioners, or I/P transducers.  The regulating principles are the same here as they are for all air pressure regulators. However, we are forcing the supply air through a sintered polyethylene filter, either 40 or 5 microns in size, to filter out moisture and very small particulates from the supply air. Everything that is filtered out of the air is captured in a drip well and can be either manually drained or automatically drained whenever the fluid hits a certain point. ControlAir's filter regulators all have a sensitivity of 1" water column and are available in aluminum or stainless steel, as well as relieving or non-relieving.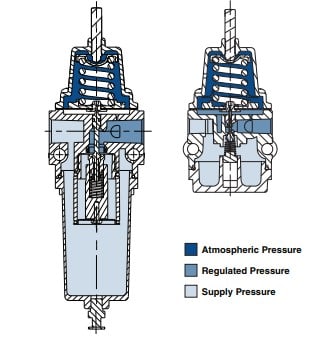 General Purpose Regulators:
A general purpose regulator is a more appropriate selection when the cost is a priority over precision. We see our general purpose regulators often used in OEM applications.  While most of our precision regulators are sensitive to 1/8" water column, our general purpose regulators, like the Type 400 below, are sensitive to 1" water column or 0.036 PSI. Since these units are not designed to bleed a small amount of air, however, you will see generally less air consumption when using a general purpose regulator. These types of air pressure regulators see a lot of use in the fluid power industry as well as process control instrumentation and panels. Since they are more economic, they make good units to regulate individual service lines rather than the main shop airline, which would require a unit with a greater flow allowance.